My Chemical Romance: Big Day Out run Begins in Auckland, New Zealand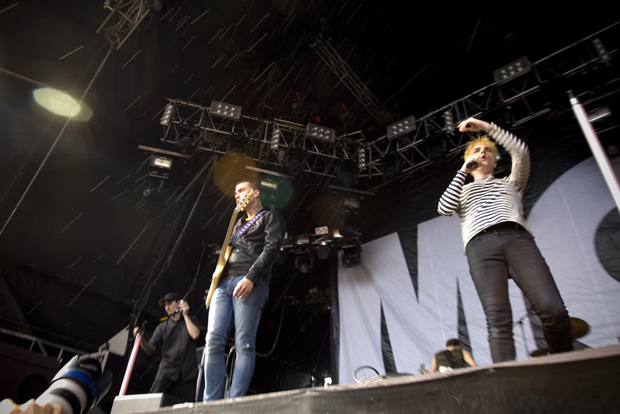 Yesterday (or the day before yesterday, if you're going by New Zealand time), My Chemical Romance gave their first performance of Big Day Out Festival.
Fans, early in the day, had been tipped off by those in attendance of the pre-show meet-and-greet that singer Gerard Way's hair was "orange." For whatever reason, despite our knowing Gerard will--if pattern can allow us to predict--inevitably make a drastic hair changes forevermore, the MCR fan community still goes wild over said changes.
Unfortunately, due to the focus on aesthetic changes, not much of substance was shared during the show.
In post-performance reviews,
stuff.co.nz
said that My Chemical Romance drew "easily the biggest crowd of the day [at the time of posting], and while the sound started on the dodgy side, they [had] the kids jumping and screaming like an audience should" while the
NZ Herald
said their performance was better than it was at BDO 2007, but the crowd was smaller.
Check out their performance of "Our Lady of Sorrows" from their first BDO performance below (thanks to Youtube user
newzealandmotion
.)